About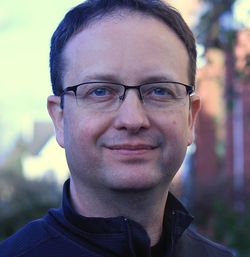 Andy Lomas is a computational artist, mathematician and Emmy award winning supervisor of computer generated effects. His art work explores how complex sculptural forms can be created emergently by simulating growth processes. Inspired by the work of Alan Turing, D'Arcy Thompson and Ernst Haeckel, it exists at the boundary between art and science.
He is currently based in London, developing his art practice as well as working as a Visiting Research Fellow at
Goldsmiths, University of London
.
He has had work exhibited in numerous exhibitions, including at the Pompidou Centre, V&A, the Royal Society, SIGGRAPH, Japan Media Arts Festival, Ars Electronica Festival, Los Angeles Municipal Art Gallery, Los Angeles Center for Digital Art, Centro Andaluz de Arte Contemporaneo, Watermans, the Science Museum and the ZKM. He also has work in the collections at the V&A, the Computer Arts Society and the D'Arcy Thompson Art Fund Collection, and was selected by Saatchi Online to contribute to a special exhibition in the Zoo Art Fair at the Royal Academy of Arts. In 2014 his work Cellular Forms won The Lumen Prize Gold Award.
He has given invited talks and keynote presentations at numerous companies, conferences and events, including TEDx, Pixar, ILM, the European Conference on Artificial Life, the Architectural Association, UCL, the Academy of Fine Arts Vienna, the Institute for Computational Design and Construction, CVMP, FMX, London LASER and the Computer Arts Society.
Production credits include Walking with Dinosaurs, Matrix: Revolutions, Matrix: Reloaded, Over the Hedge, The Tale of Despereaux, and Avatar. He received Emmys for his work on The Odyssey (1997) and Alice in Wonderland (1999).
More information about production work
back to homepage